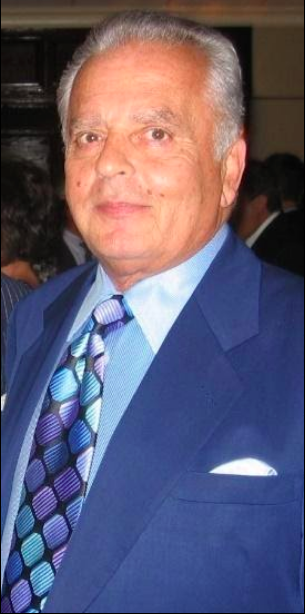 While not quite 90 years' worth, Dean Stavrakas can likely recall many moments in the NHIBT's grand and illustrious history. By any measure, Stavrakas, 76, is in exclusive company having witnessed the preeminent Greek basketball tournament in the United States, by participating either directly or on the immediate periphery, in approximately three-quarters of the trailing 89 installments.
Coterminous in much of this period, was Dean's passion and dedication to the Order of AHEPA; his commitment to youth, evidenced by his stewardship with St. Demetrios Greek Orthodox Church in Chicago, as Chairman of Athletics for over 20 years, and in local prep sports, as a varsity head baseball coach for 23 seasons; and his zeal for competition, having managed a semi-professional baseball organization (also, conspicuously called AHEPA), dating back to 1970, which competed on both national and international levels, with notable byproducts such as 1974 National League All-Star and June Player-of-the-Month Buzz Capra; 1983 American League Rookie of the Year Ron Kittle; Todd Hundley; Bob Koopman; Al Levine; Scott Spiezio; Sal Fasano; Tom Wieghaus and Paul Stevens, Head Baseball Coach of the Northwestern University Wildcats for 28 seasons, who are among the over 100 former players who have signed professional and (players listed above) Major League contracts.
Despite the professional success of his players over the years, Stavrakas publicly states that he is most proud of the fact that the number of his prep alumni who continued on to college is extraordinarily high. Throughout the years, when Chicago Public Schools struggled to graduate 60% of school seniors, Dean's players scored 100% in graduation, with many continuing on to college.
A notable presence on the bench and in the huddle for dozens of NHIBT tournaments spanning four decades, mostly on behalf of sons Symeon and George, Dean's athletic milestones found congruence with his family, business, and personal life. Joanne, his wife of 50 years, is currently involved on the National Philoptochos Executive Board as third Vice President, while his 2 sons, Symeon and George were beneficiaries of his efforts. Both boys excelled athletically, and now his two Grandchildren, Dino, 8 and Jozi, 5 are actively involved in various sports programs, while Lindsay, Mom, is involved in Hellenic and community services throughout the area and a Metropolis Philoptochos Board member. George, is currently Head Varsity Softball Coach at Guerin Prep, and was recognized as Coach of the Year twice, 2009 and 2012 while at Lane Tech where he led Lane to six City Championships and 3 Regional Championships.
1989 – 1990 was the twilight period of Stavrakas' semi-professional baseball managerial career, culminating on the international stage, when he accepted an invitation to Saint Martin, in the Caribbean, for that island's International Baseball Tournament in 1989, which was highlighted by a victory over the Cuban National Team. In 1990, his team competed in the Grand Forks International Baseball Tournament in British Columbia, Canada, where notable international opponents included the national teams of Mexico, Netherlands, Nicaragua, Canada, Taiwan, Cuba, Japan, Venezuela, and Costa Rica.
Dean later began his high school head coaching career in 1991, at Hales Franciscan High School, an all-boys Catholic school on the southside of Chicago, where prior to his arrival, they had not won a single varsity baseball game in over two years; that year, he achieved a 7-15 record. From 1992-2001, he led St. Benedict to a record of 229 wins against 104 losses; in 2003-2011, he took the helm at Lake View HS in Chicago, where he revived a dormant program and guided the school to its first appearance in the City title game since 1977, and an overall record of 172-136. In 2011, Dean was named Head Baseball Coach at Lane Tech, where he directed the program for two seasons, making another appearance in the City Championship game, going 46-24, including a 2-year Jackie Robinson Conference record of 27-1.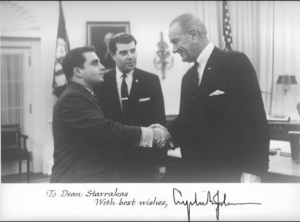 Notwithstanding these aforementioned milestones and career highlights, perhaps equally satisfying to Dean and his family, is his legacy within the Order of AHEPA, where he served as Sons of Pericles Supreme President from 1967 to 1968, and during his tenure, the Sons of Pericles enjoyed their greatest annual increase in membership since 1941. By the conclusion of his term in 1968, the upward momentum shepherded by Stavrakas, continued, culminating with 566 new members, 20 chapters organized, and 159 Life Memberships sold, a record high. Also held that year was what some would refer to as the "finest" Sons Invitational Basketball Tournament, with 26 teams and over 900 Sons and Maids in attendance. Dean's term would conclude at the AHEPA Supreme Convention, in New York, in August 1968, with over 2,400 members in the Order of the Sons of Pericles.
Dean was fortunate to have travelled throughout the country and overseas on behalf of the Sons, including an invitation to the White House, as a guest of President Lyndon Johnson, in 1968; he also addressed the Greek Parliament, in Athens. In 1975 to 1976, he served as 13th District Governor of AHEPA, which at that time, he was the youngest to have held that position. Dean founded Kleen Teem Group, a regional and national industrial cleaning company based in Illinois and Florida, focusing on post construction, concerts, state fairs and regional festivals throughout the country, in 1999.
Not surprisingly, the "Team" in KLEEN TEEM, is primarily staffed by his family!
---