Celebrating over 92 years of Hellenic Basketball
WWW.NHIBT.COM
---
NHIBT OFFICERS
Dean Manasses,
AIA President
10512 Louetta Lane
Orland Park, IL
e: nhibt.inc@gmail.com
p 312.671.7173
Emily Bouzarelos-Vidas
Secretary
Frank Korbos
Treasurer
7933 W. 77th Street
Bridgeview, IL 60455
p: 708.691.8500
---
BOARD OF DIRECTORS
Peter Bouzeos
George Demos
Jim Lakerdas, esq.
Dr. Peter Petrovas
Eleni Skoubis
Kirk Vidas
Elias Zimianitis
---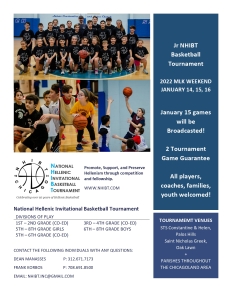 Dear Greek Orthodox Junior Representative, Youth Group Leader, Athletic Director, and Pastor,
The NHIBT has a well-known, respected, and admired past with countless supporters from the local and national Hellenic community. And now, in 2021 we are celebrating over 92 years of basketball within our beloved Hellenic community.
The National Hellenic Invitational Basketball Tournament will be hosting their annual junior division tournament on MLK Weekend between Friday, January 14 through Sunday, January 16. The following divisions of play will be offered to the community:
Divisions of Play
1st – 2nd grade (Co-ed)
3rd – 4th grade (Co-ed)
5th – 6th grade (Co-ed)
5th – 8th grade Girls
7th – 8th grade Boys
The tournament will need to follow coronavirus (COVID-19) protocols. This will be continually monitored and will be adjusted up to the tournament dates. Currently the NHIBT will be following IHSA guidance.
We ask all players, coaches, families, and Orthodox youth leaders to join us. We will forward roster and waiver information to those that are interested.
Contact the following individuals with any questions:
Dean Manasses, P: 312.671.7173, E: nhibt.inc@gmail.com
Frank Korbos, P: 708.691.8500, Ε: frankkorbosfamily@hotmail.com
The fee values to join the tournament this year are as follows:
| Divisions | Fee Value |
| --- | --- |
| 1st – 6th grade (Co-ed) | $ 150.00 |
| 7th – 8th grade Boys | $ 200.00 |
| 5th – 8th grade Girls | $ 200.00 |
We kindly ask all entries to be submitted by January 4, 2022. Games are tentatively planned to be played at
Saint Nicholas Greek Orthodox Church, 10301 S Kolmar Ave, Oak Lawn
Sts. Constantine & Helen Church, 11025 S Roberts Rd, Palos Hills
AND OTHER LOCAL CHICAGOLAND GREEK ORTHODOX PARISHES.
We work diligently with a special group of young men and women who love playing the game of basketball. Everyone through their hard work continues to Promote, Support, and Preserve Hellenism through competition and fellowship. With support from the volunteers, Hellenic leaders, parents, and supporters like yourselves, the tournament continues to grow serving hundreds of our magnificent Hellenic youth. They all continue to inspire us.
We will continue to work together as caretakers of this Hellenic legacy. Thank you again, and we look forward to everyone's support.
Warmest regards,
Dean Manasses, AIA, LEED AP BD+C, NCARB, PMP
NHIBT President on behalf of the NHIBT Board of Directors ---
Please email nhibt.inc@gmail.com if you have any questions.
Sincerely,
National Hellenic Invitational Basketball Tournament