90 YEARS OF THE NHIBT: CRAWLING THE FLOORS TO RUNNING THE BOARDS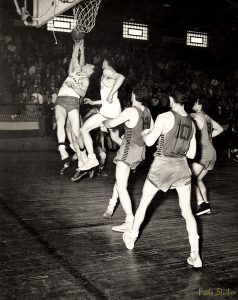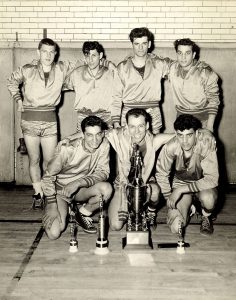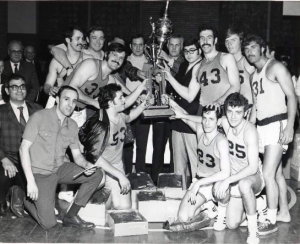 By Terry Poulos
[March 2020] Spring of 2020 marks the 90th year for America's oldest and grandest Greek basketball tournament, the National Hellenic Invitational Basketball Tournament (NHIBT). As a former player and organizer, and someone who's covered Greek sports for decades in various publications, the committee asked me to write a retrospective and I was elated to oblige. I've had a 45-year association with Greek basketball, first playing in the GOAL church league, then the NHIBT and out-of-town tournaments, and 20 years on the committee itself.
The NHIBT was my NBA, a place to continue plying my third-rate wares long after most gave up the sport or were given up on by the sport. My soul will forever be filled with tremendous nostalgia for this institution of family, fun and friendship, and lifelong associations that have resulted!
Before I had a chance to conjure up an angle – other than the "happy anniversary" standard fare – I happened upon a facebook post by one of the NHIBT's standout women's division players, Kyra Vidas. Her father, Kirk, is a former pro player in Greece who cut many a teeth on an NHIBT court, and her mother Emily is on the NHIBT committee. From the time Kyra was a baby, she wrote that she was "crawling the floor" while watching her father tear up the hardwood (or rubber, as was the case at Cicero Stadium). It was as though with every crawl, memories were literally being physically etched into her mind and this built into a crescendo where the anticipation would literally gnaw at a youngster yearning for the day she would be the one running the boards. Kyra grew up to become a Chicago All-City player and today works in the front office for the WNBA's Atlanta pro franchise. Her experience is an apt analogy for life itself. First we must crawl, then walk, then run. But it's the crawling that builds the nostalgia. The NHIBT started crawling in 1931. Then it ran like the wind!
That turn of decades was a thrilling yet precarious time in Chicago and the world. The 1929 stock market crash ushered in the Great Depression and unemployment reached 16.3-percent. The Great Plains suffered devastating droughts, dust storms and soil erosion, leaving millions desperate for basic food necessities. Prohibition led to rampant crime and a slew of gangland slayings. By 1931, the outfit of notorious Chicago crime boss Al Capone was at full throttle in its reign of terror. But in October of the same year, legendary crime-fighter Elliott Ness was able to secure an 11-year federal prison sentence for Capone, marking a key turning point for the city. Overall conditions were bleak but great things were on the horizon.
The Empire State Building opened in May of 1931 as the world's tallest building. Chicago debuted the Merchandise Mart, the largest (by square-foot) commercial space in the nation, and Shedd Aquarium on the lakefront. William Shatner and Leonard Nemoy, later of "Star Trek" fame, were both born in 1931, and the Star Spangled Banner was officially adopted as the US national anthem.
Simultaneously, millions of immigrants, including scores of Greeks, continued to pour through Ellis Island in the second major wave of mass European migration. They were welcomed by the sight of the Statue of Liberty, an iconic symbol for freedom in a nation of immigrants. On Chicago's North Side, something entirely new was in its infancy. At a rusty, rickety old (since-demolished) gymnasium at DePaul University, a few short miles from where Capone was being held in a lockup, a small group of first-generation Greek American `cagers' gathered to compete in what would eventually evolve into the biggest and grandest national Greek basketball tournament in the country.
In fact, the NHIBT at 90 years of age is the second oldest national basketball tournament of any kind whatsoever, older than the NCAA, NIT, and NBA. The oldest national tournament, coincidentally, also began in Illinois: the Illinois National High School Basketball Tournament.
In the midst of Depression-era turmoil and struggle, the NHIBT began a slow crawl. Working with rotary telephones and the US postal service, founders Philip J. Collias, Louis Deligiannis, and Constantine J. Papas managed to rustle up six teams from the Midwest to compete. The first champion was the Centaurs, Chicago guys who grew up near the old Greektown delta and learned the game at the famous Hull House. The Centaurs featured stars Chris Veleras (the first MVP) and Tom Bouzeos. Tom's younger brother Phil was in the stands watching, hoping soon he too would be running the boards. Eventually he would. The Bouzeos brothers would become the heart and soul of the tournament, serving on the committee or as president from the 1950's all the way up through their passing in the 2010's.
In the early years, the tournament was simply a bunch of like-minded guys getting together to have fun with the fledgling new American sport of basketball. It was a way to blow off steam during the Depression, meet new friends and learn a uniquely American sport and assimilate into the culture of their newly-adopted country.
The tournament steadily grew in the ensuing decade. Then World War II broke out and play was suspended from 1943-46. When the boys returned from overseas, the NHIBT finally began to run, a run that would carry through its glory years all the way through the late 60's. It was by now a must-attend event, anticipated year-round across the nation. At its high point, it was attracting up to 2,000 at its annual Saturday night dinner dance, usually held at the old Knickerbocker Hotel or Aragon Ballroom. There was even a queen and her court who were honored with great pageantry.
During games, the stands were filled to the rafters every night of the Friday through Sunday tournament. Many of the top players, names such as Nick Mantis (who also played in the NBA) and Nick Kladis (college All-American), were revered within the Greek community. And just as the NBA had its Celtics dynasties, the NHIBT had the Ypsilanti Sons of Pericles, who dominated and strung together multiple titles for decades and remain the primary force today.
As the 50's pushed on, the NHIBT attracted the attention of then world heavyweight wrestling champion Jim Londos, who lent his name and support for years. The tournament was temporarily renamed "The Londos Invitational." By this time, the NHIBT wasn't merely just a basketball tournament, it was a cultural phenomenon. Teams were coming in from coast-to-coast. It's been suggested that aside from the Greek Orthodox Church and AHEPA, the NHIBT may have been responsible for more marriages than just about any Greek American institution during that span. The NHIBT was by now in a full-on sprint!
Fierce and entertaining rivalries were passed down through generations, with some persisting today. This was serious business and still is. Guys wanted to win bad and at times coaches would lie, cheat, steal and sell out their yiayia to bring in a ringer under the radar. The colorful stories are legend. One of the greatest of history-keepers was the now late Peter Economos, a key organizer throughout the years who used to regale us with hilarious anecdotes about players, coaches and organizers that would have us laughing into the wee hours at post-tournament committee dinners.
Other integral organizers who warrant mention include Peter Conomikes, Steven Javaras, Orptheus Askounis, George Polek, Nick Danakas, James J. Kulidas, Michael Skoubis, and Van Siavelis. There are other more modern-day committee members to mention but we'll save that for the 100th anniversary. And hundreds of Hall of Fame players that can be found at NHIBT.com.
By the time the civil rights era of the 60's rolled in, second and third generation Greek Americans were reaping the benefits of a more accepting society. Greeks were no longer looked at as second-class citizens, and they began entering the professions. Their parents worked their fingers to the bone in the service, trade, and agricultural/food industries to provide a better life for their children. Greeks, who've always emphasized education, were able to send their kids to college and this new generation was now becoming doctors, lawyers, bankers, entrepreneurs, and politicians.
However, a new phenomenon was simultaneously pulling at the threads. America has always been a melting pot and Greeks were no less `vulnerable' to that pull than any other ethnicity. More and more began to marry outside their ancestral culture. The rise of the digital age and Internet brought with it ever more homogeneous pastimes. With that, the NHIBT had a new charge: helping to keep intact the Greek cultural unit, whether by marriage or simply by providing a forum to keep exposing Greek Americans – many whose only modern exposure has become Greek basketball – to Hellenic heritage.
Thus, what began as a way to assimilate into American culture now turned 180-degrees to become a vessel of cultural cohesion, a key tenet and asset of America. Without its myriad cultures, America in essence erodes its identity. The USA's identity is not so much `American' as it is Greek American, Irish American, Hispanic American, Asian American, German American, Syrian American, Serbian American, Italian American, and all ethnic and racial groups. All of the above. `American,' at its roots, is an amalgam of identities. It's a somewhat complicated nuance that often gets lost in the shuffle but highly relevant nevertheless. Maintaining a tournament that preserves Greek heritage, in effect, is analogous to the Greek community doing its part to maintain overall American identity.
Geopolitical and cultural statements aside, the primary function of the tournament is foremost as a fun pastime. We love this game! And we love the NHIBT's romantic history of time-worn gymnasiums. And I suspect, having played myself and witnessed a disproportionate number of Greeks who excel at it per-capita, that there may be something in the Greek athletic DNA that's amenable to basketball, notwithstanding the European obsession with soccer. Today, European basketball has never been more popular, as one example. And Greeks in Greece were crazy about the sport long before 2018-19 NBA MVP Giannis Antetekoumpo arrived and upped Greek hoops fever to a new unprecedented level.
Fun indeed but Greek basketball also brings together family and friends (hey, that's fun too). Sports unite thousands in community, common cause and many times career association, which is an under-appreciated credit to the NHIBT as many of the older players and coaches serve as mentors to younger players. I can cite countless examples of players who were set up in business and with jobs, or guided into college, as a direct result of their association with Greek basketball. This is a perpetual cycle, another reason the NHIBT elicits pangs of nostalgia. Memories of the lesser moments and the glory moments years later often blur together to become indistinguishable. What's more important? That game-winning shot you hit 20 years ago or the moment you met a friend for life, or your spouse? Or that mentor who sparked a fire in your life in general? These are memories that live on in our present-day physical reality.
First we crawled, then we walked and ran. The NHIBT continues a good steady run, even spawning a slew of new Chicago-area Pan-Orthodox tournaments that would not have had antecedent without the NHIBT. Meanwhile, our memories continue to hold that slow, steady crawl. For a trip down nostalgia lane, all one need do is come out to Elmhurst College this Spring, reunite with old friends, and get your NHIBT fix.
With profound gratitude to the committee who put in the time, effort and at times their own money to keep the NHIBT running – thank you. Do keep running, and by all means keep crawling too!
Terry Poulos is the founder of TheSportsIndex.com, has written sports for various Greek American publications for 25 years, served 20 years on the NHIBT committee, is the administrator of the facebook group "Greek Hoop Scoop," is co-founder and editor of GreeksInSports.com, and served 20 years as an NFL Replay Assistant where he was awarded a Super Bowl ring for working SB XLIX in 2015