Meet Dr. George Korkos, the Greek-American Founder of the Milwaukee Bucks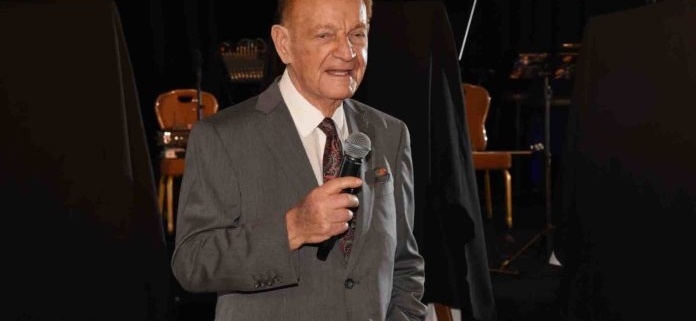 "Before Giannis [Antetokounmpo] there was another Greek. That was me, Dr. George Korkos," the founding owner of Milwaukee Bucks says with a big grin on his face as he shows the NBA Championship ring he still proudly wears almost five decades after his team won the NBA title.
Korkos, a proud Greek-American, was at the helm of the Bucks when the club wrote the most glorious page in its history by winning the '71 championship, thanks in great part to Kareem Abdul Jabaar, whom he describes as "probably the finest basketball player that ever lived" and Oscar Robertson.
The Milwaukee Bucks — with those two stars and a talented cast of role players — would go on to win 66 regular season games in the 1970-1971 season and cruise to the Championship, winning 12 of 14 playoff games, including a 4-0 sweep of the Baltimore Bullets.
Basketball pundits consider that Bucks team as one of the most dominant in the entire history of the NBA.
Korkos, who is now a successful plastic surgeon, describes himself a "sports fanatic," and still laments the fact that due to his 5'6″ height (1.67 m) he couldn't play professional basketball himself. "I wasn't even tall enough to be the trainer, but I loved this sports game," he says.
With his childlike enthusiasm for the game, he was among those who helped acquire the the Milwaukee Bucks franchise on January 22, 1968. "We were so fortunate to get that franchise. And we got it because of persistence… Once we got it, we were 'green,' but we were growing."
"Giannis has got to do what we had to do. He's got to bring to Milwaukee another championship!" Korkos says enthusiastically.
The surgeon and basketball entrepreneur clearly remembers the first time he met Antetokounmpo when the Greek Freak was only 19 years of age. Korkos was warned that the basketball player, newly-arrived from Athens, did not speak much English.
"I said 'OK Gianni, we'll talk in Greek.' Well after about 20 minutes, my Greek went to hell, and he said: 'Enough for today…Your Greek isn't that good. You'd better speak English with me!" Korkos remembers.
For his part, Antetokounmpo has great admiration for Korkos. "I want to thank you from the bottom of my heart for representing Greece. And you know the saying: Once a Buck, always a Buck," the Greek Freak notes.
Korkos' parents were born in the Peloponnesian Peninsula, his father near Patras and his mother in Sparta. "I'm 100% Greek, Greek-American," he states proudly recalling his roots.
"My parents came here, they got married and had this wonderful life," he adds.
His Greek roots and love for Hellenism pushed him to co-found The National Hellenic Society, an association of Greek-American leaders, visionaries, and philanthropists who perpetuate and celebrate their homeland's rich heritage in a multitude of ways.
Through the support of programs that foster the preservation of Hellenic heritage in the United States, The National Hellenic Society strives to be a beacon for the promotion, understanding and appreciation of Hellenic heritage in the United States.
The Society's mission is also to pass on the stewardship of Greek heritage and shared democratic values and ideals to the next generation.
"The mission of the National Hellenic Society is to promote, and sustain Hellenism in this country. We're doing it through our youth program. We're sending our youth to Greece, completely paid for," Korkos says.
He notes that youngsters in the U.S. — not only those of Greek heritage — have become very very knowledgeable about Greece because of Antetokounmpo and the Bucks.
"He's done a lot about the Greek image, and I'm happy to be his friend," Korkos says.
The former team owner hopes that the Greek Freak will stay in Milwaukee for many years. "The matrix is such in Milwaukee, that this can be his home for his entire NBA career," he states.
"I never would imagine how Greek the Milwaukee Bucks have become! As a matter of fact, this year they signed Thanassi, his older brother. So now we have two Greeks on the team. That's a great thing because [the club] is family orientated."
The founding father of the Milwaukee Bucks serves as the President of both Plastic Surgery Associates and Rejuva Skin Care & Laser Center, and he is also an Associate Clinical Professor at the Medical College of Wisconsin in Milwaukee.
He has been a Director at Fibrocell Science, Inc. since July of 2010, and serves as a Member of Advisory Board of Skinvisible Inc. He has served as scientific Advisory Board Member of the Cellgen Company, the Sleep Holding Company, and Skin Visible Company.
The Greek-American is a member of a number of prestigious medical societies.
"If you asked me 'George, what would you do if you'd do it over again?' I would reply that I wouldn't change my lifestyle at all. I love people, I care for them… Fortunately, we Greeks are lucky!" Korkos says.
https://nhibt.com/wp-content/uploads/2019/11/meet-dr-george-korkos-the-greek-american-founder-of-the-milwaukee-bucks.jpg
464
696
NHIBT
https://nhibt.com/wp-content/uploads/2019/04/nhibt-logo-white-with-padding.png
NHIBT
2019-11-05 03:56:56
2019-11-05 03:56:56
Meet Dr. George Korkos, the Greek-American Founder of the Milwaukee Bucks