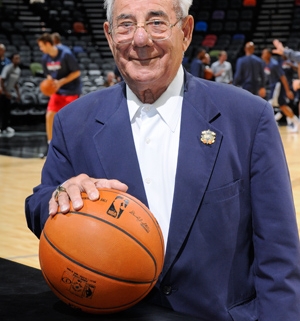 Thirty nine years and three arenas ago, Pete Anton donned a red jacket and went to work for the Silver and Black. From the media entrance at the old HemisFair Arena, Anton checked the credentials of broadcasters, reporters and photographers arriving to cover the first game of a fledgling ABA franchise.
The boxscore contains many historic tidbits, from the final score (San Diego Conquistadors 121, San Antonio Spurs 106) and attendance (5,879) to the leading scorers for the home team (Rich Jones with 25) and visitors (Slew Johnson, 38). What it doesn't record is this: On Oct. 10, 1973, Anton began a run at the Spurs media gate that would cover more than 1,700 home games (preseason, regular season and postseason) across parts of five decades.
He's outlasted 14 head coaches and generations of players and media. "I'm one of the originals," says Anton, a warm, ever-smiling gentleman whose affable nature belies his 87 years.
He's also an institution, an enduring fixture at home games who owns more championship bling — three rings, one watch — than every player in franchise history except Tim Duncan. Speaking of No. 21: Anton started working the media entrance three years before Duncan was born.
"I enjoy what I do," Anton says. "I'll keep doing it as long as my health is great and my mind is clear."
His memory is vivid, his eye for deception sharp. Anton can tell you about the guy who tried to gain entry to the HemisFair Arena, claiming to be George Gervin's cousin. He can tell you about the dude who offered a $50 bribe to get into a sold-out game. He can tell you about the fans who tried to seduce him.
"Young girls would come and proposition me to let them in and I'd have to go chase them away," Anton says. "That was back in the old days."
The old days are chronicled with photos and stories in scrapbooks. Anton also collects Spurs memorabilia. Pennants. Hats. Mugs. T-shirts. He's remains as devoted a fan as any season ticket-holder.
"We had to work our holidays around the Spurs schedule because that was his priority," says Irene Pavlovsky, Anton's 55-year-old daughter. "It was funny. We'd say, 'Dad we are going to do Christmas,' and he'd say, 'Let me check my schedule.' We had to make sure the Spurs weren't playing on a day we wanted to do something special. But it was fun."
Baseball, you could say, brought Anton into the world of basketball. A next door neighbor who played in the 1936 Major League All-Star game, Pinkey Whitney, was asked to work the Spurs media gate. The neighbor invited Anton to join him. "Pinkey told me stories from the Babe Ruth era," Anton says.
A native of East Chicago, Ind., Gregg Popovich's hometown, the Franchise Original was born to Greek immigrants who shortened their last name from Antonouplos upon arriving at Ellis Island. The kid grew up playing pickup basketball but says he was too short to play in high school. He married and moved in the early 1960s to San Antonio — where his wife grew up — and became a sales representative for a merchandising company.
Ten years later, he began checking credentials. Along the way, Anton made friends with hundreds of Spurs, with visiting coaches and players, with everyone from the owner to the ballboy. "I've seen 'em come and go," he says. "They come back and say, 'Hi Pete!' I say, 'Who are you?' And it's a ballboy from way back."
Players from another generation seek him out when visiting the AT&T Center. Gervin. James Silas. Mark Olberding. Others. "They all come up and talk to me," Anton says.
Current players enjoy his company, too. Manu Ginobili once autographed a jersey for Anton's son, the Greek Orthodox Archbishop of Buenos Aires.
The Spurs are his second family, the AT&T Center his second home. For a 7:30 p.m. tipoff, he arrives at 3 p.m., long before the first reporter shows up, and works his station until the end of the third quarter. He finishes the game in the media room.
The red jacket he used to wear is gone.Today, he wears a black suit. His wife, Angie, passed away a few years ago. "He feels the Spurs have kept him going," Pavlovsky says. "They give him something to look forward to."
Anton's only daughter lives in Katy. She is often asked why she wears a Spurs jersey instead of Houston Rockets gear. She explains her father's relationship with the team. Heads nod. Questions go away.
When her dad turned 80, he received lots of gifts. But the one he talked about most was the ball autographed by each Spur. Seven years later, the gift remains a treasure, a word his second family uses to describe him.
https://nhibt.com/wp-content/uploads/2019/02/a-franchise-original-pete-anton.jpg
400
300
NHIBT
https://nhibt.com/wp-content/uploads/2019/04/nhibt-logo-white-with-padding.png
NHIBT
2019-02-25 08:23:02
2019-02-25 08:23:02
A Franchise Original – Pete Anton