Greece Reveal Roster For Fiba Qualifiers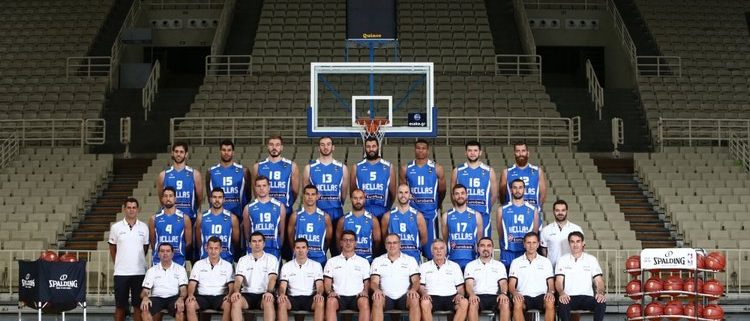 Greece revealed a list of 24 players called-up to the Ethniki for November's qualifiers against Great Britain and Israel…
Greece's roster for next month's qualifiers for the 2019 FIBA Basketball World Cup was revealed on Friday, as Kostas Missas looks to steer the Ethniki to the final tournament in China.
Olympiacos star Georgios Printezis and Panathinaikos playmaker Nikos Calathes are among the call-ups, but four players from this past summer's EuroBasket roster were not included.
Dimitris Agravanis, Nikos Pappas, Georgios Bogris, and Georgios Papagiannis were left off the roster despite playing a role in Greece's EuroBasket campaign in Finland and Turkey.
Giannis Bourousis, who continued his playing career in China with Zhejiang Guangsha Lions following EuroBasket 2017, was also called-up. The Panathinaikos duo of Konstantinos Mitoglou and Zach Auguste were also included in the roster, despite being part of the final cuts for Greece's EuroBasket roster.
Meanwhile, AEK's Dusan Sakota was also included in the roster. Born in Serbia,
Sakota owns dual citizenship and has already featured for the Greece U-19 squad.
It comes as no surprise, however, that no NBA talent was included in the Greece roster as it is unlikely that Greece's NBA stars – like Giannis Antetokounmpo and the aforementioned Papagiannis – would be made available.
Greece were paired with the likes of Great Britain, Estonia, and Israel in Group H for the first round of qualifying in the European zone. The top three sides in the group will progress to the second round of qualifying, and will be joined by the trop three sides from Group G – a section that features Austria, Georgia, Germany, and Serbia.
Greece's qualifying campaign begins on 24 November against Great Britain in Leicester, before the Ethniki return home to host Israel in Heraklion three days later.
FIBA vs. EuroLeague
While the EuroLeague is said to contain European basketball's best teams and players, the reality is that in 2017 that could pose a headache for international teams across the continent.
Overall, the Greek roster includes nine EuroLeague players – a reality that could be a headache for Greece's coaching staff.
With FIBA adopting a new qualification system for the 2019 edition of its World Cup, conflicts with the EuroLeague are an ongoing matter as scheduling conflicts between the two competitions remain an issue prior to the tip-off of the first round of games.
Greece's qualifying campaign tips-off against Great Britain in Leicester, England on 24 November, the same day five of Greece's call-ups are scheduled to feature for their teams in the EuroLeague.
To further compound problems, a further four of Greece's call-ups are scheduled to feature in the EuroLeague for Olympiacos one day before Greece's first qualifier.
It remains to be seen how FIBA and the EuroLeague will resolve their scheduling conflicts, but in the interim the unpredictability certainly poses a challenge for Missas and his coaching staff.
Greece 24-man roster: Giannis Bourousis, Georgios Printezis, Nikos Calathes, Kostas Papanikolaou, Kostas Sloukas, Vangelis Mantzaris, Panagiotis Vasilopoulos, Mike Bramos, Dimitris Mavroeidis, Ioannis Papapetrou, Thanassis Antetokounmpo, Giannis Athinaiou, Charis Giannopoulos, Dimitris Katsivelis, Konstantinos Mitoglou, Giannoulis Larentzakis, Antonis Koniaris, Nikos Gikas, Vassilis Mouratos, Vassilis Christidis, Christos Saloustros, Georgios Tsalmpouris, Dusan Sakota, Zach Auguste.
by Peter Katsiris
Image Source: gazetta.gr
Thank you for visiting AGONAsport.com, the only English based website for Greek sports fans across the world! Like us on Facebook, follow us on Instagram, and Twitter for all the latest news in Greek Sports!
https://nhibt.com/wp-content/uploads/2018/04/greece-reveal-roster-for-fiba-qualifiers.jpeg
500
750
NHIBT
https://nhibt.com/wp-content/uploads/2019/04/nhibt-logo-white-with-padding.png
NHIBT
2018-04-18 01:08:27
2018-04-18 01:13:20
Greece Reveal Roster For Fiba Qualifiers