NBA Star Giannis 'Greek Freak' Antetokounmpo Recalls Not Having Enough Money for His Own Basketball Sneakers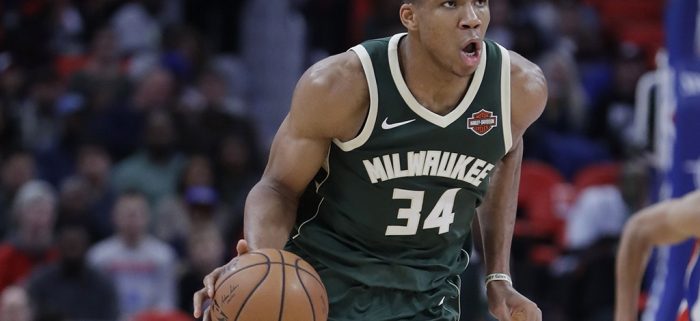 NBA star Giannis Antetokounmpo of Milwaukee Bucks may have his own signature Nike shoe on the way, but after sitting down for an interview with "60 Minutes," the baller revealed on Sunday that during his modest upbringing he once had to share sneakers with his brother while growing up in Greece.
Born to Nigerian parents in 1994, the family rarely had enough to eat and often slept three or four to a bed, living in a tiny two-room apartment.
"You know, it was tough. We didn't have a lot of money. But we had a lot of happiness. So we wasn't broke happiness-wise. When we were struggling back in the day, we were all together in one room, same room. We were having fun. We were smiling. There was some tough times," the athlete told CBS News' Steve Kroft.
Giannis' father got the Bucks star and his brother, Thanasis, into basketball and encouraged them to pursue a career in sports. They played on a second division Greek team earning less than $500 a month. Thanasis is now on the Greek National Team and plays in a top European league.
Taking Kroft to the humble gym in Athens where they used to play, Giannis — who's been wearing player-exclusive editions of Nike's new Kobe AD midtop sneaker this season — recalled how their modest earnings affected what happened on the court. "I remember one game we played with the same pair. One game."
That said, since being selected by the Bucks as the 15th pick in the 2013 NBA draft, Giannis has made two All-Star teams and re-signed with Nike last fall — and his financial woes are behind him. He's affectionally referred to as the "Greek Freak" by fans.
After a breakthrough 2016-17 season, Giannis was wooed by a slew of athleticwear companies, including Nike rival Adidas. But ultimately, he signed to a long–term deal with Nike in early November.
https://nhibt.com/wp-content/uploads/2018/04/Milwaukee-Bucks-forward-and-Nike-athlete-Giannis-Antetokounmpo.-CREDIT-REX-SHUTTERSTOCK.jpg
437
700
NHIBT
https://nhibt.com/wp-content/uploads/2019/04/nhibt-logo-white-with-padding.png
NHIBT
2018-04-17 14:23:44
2018-04-17 14:23:44
NBA Star Giannis 'Greek Freak' Antetokounmpo Recalls Not Having Enough Money for His Own Basketball Sneakers