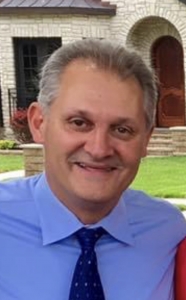 Mike gained his love for basketball as an 8th grader at St. Demetrios Chicago under the tutelage of Coach John Margaritis, currently head Coach at UC Riverside. It was under Coach Margaritis that Mike learned both the mental and physical aspects of what it took to be a successful basketball player and coach. Being a point guard early on fanned the flames to understand the game of basketball from multiple vantage points. Other notable influences at St. Demetrios Chicago included Jim Chiakulis, Perry Rouches, and Nick Stames. Mike holds St. Demetrios Chicago dear to his heart having been married and baptizing all his children there. 
Played and coached in multiple divisions in the NHIBT for 38+ years.                                                                          

Member of St. Demetrios Chicago 50+ years.

Member of AHEPA

Played and coached at St. Demetrios Chicago 20+ years.

Coached multiple teams to championships in multiple divisions in OYAA, Ahepa Marrow, and GMMT tournaments.

Family:

Wife- Cindy (played in NHIBT 4 years)

Children- Alexandra (24), Thomas (23), Matthew (22) and Samantha (20). All have played many years in the NHIBT and won championships. 

Coached 5 different teams to championships in 3 different divisions:

High School Boys- 2012, 2014

Women's Division- 2015, 2018

8

th

Grade Boys- 2013 Inaugural Champions.

Coached multiple teams in multiple sports (Football, Boys Basketball, and Girls basketball)  in the Niles West High School Feeder program.

Currently Niles West Bass Fishing team coach.
Outside of basketball Mike enjoys Bass Fishing, Golf, attending sporting events, traveling and most of all watching his children participate in sports.